How to stay injury free for an Obstacle Race
By Mike James | 28th January 2019 | General, Advice
How to stay injury free for an Obstacle Race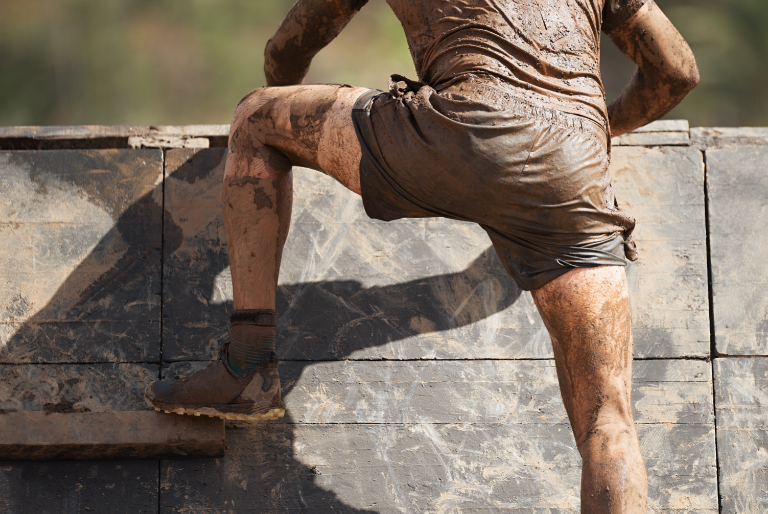 Recent years have seen a massive growth in the sport of Obstacle Course Racing (OCR). These events have evolved considerably from a fringe sport to a mainstream fitness pursuit for many. Having competed in these events for over 15 years, and helped many people prepare for them, sportsinjuryfix.com Director Mike James offers his top tips for reducing injury risk and preparing for an OCR.
Picture the scene, Shropshire, UK, 0600 on a freezing cold January morning in the early 2000's. The fields are covered in frost and the simple act of breathing produces plumes of smoke akin to a steam engine as warm water vapour collides with the cold air. The sun begins to peer over the hilltops and the perfect picture postcard begins to form. Typically, this would be a perfect setting for a new year's family walk with the dogs, however, this is not a typical weekend morning, instead a few hundred people stand in anticipation of the 2-3 hours of mud, obstacles, freezing water, barbed wire and burning lungs that lies ahead. This was "Tough Guy" and very soon I would be hooked!
It is widely accepted that "Tough Guy" is the earliest contemporary OCR, with the first race held in 1987. I certainly remember competing in it for a number of years in my military days in the late 1990's where we would be breaking ice in January and running through flaming hay bales in the summer! In 2011, approximately one million people registered to participate in OCR events in the United States, 4.5 million in 2015, 5.6 million in 2016, and over 6 million in 2017. Globally the number of participants is thought to be 20 million annually.
A typical OCR will involve a mix of running, climbing, crawling, jumping and sliding your way around a course of pre-constructed obstacles designed to challenge the individual both physically and mentally. The races can differ in length, duration and difficulty according to ability and fitness, and can range from seriously competitive where prizes and financial reward are at stake, to the just-for-fun events that allow us to roll around in the mud and relive our youths.
They may just be a novel part or a variation in your normal training or they may have become your main activity.
Whether enrolling in your first OCR, or aiming to break records, these simple tips should enable you to get to the start line injury free and give you the best chance of crossing that finish line at your best!
Find a race and give yourself enough time to train
There is no perfect strategy for this. People will usually select a race based on location and convenience. This is absolutely fine, however, make sure that when you select a race you ensure you have factored in enough time to prepare based on your current fitness levels. Whether you are a novice or an expert at OCR should determine how long you may need to prepare. If there are multiple races available, assess your current fitness levels and determine how long you realistically require preparing yourself for the race, or which race may be the most realistic and achievable within your selected timescale for training.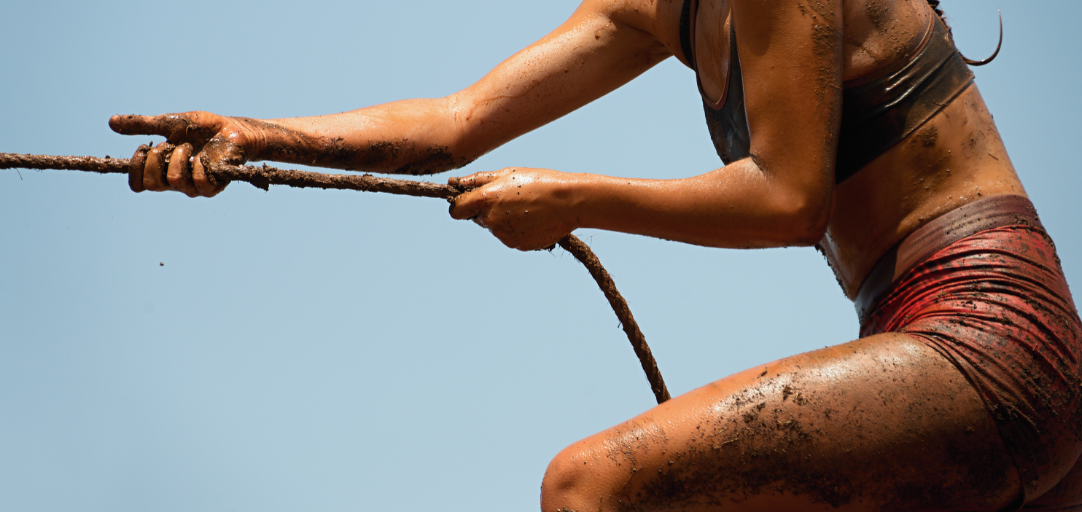 Work out the demands of the event and factor into your training
Once you have selected a race, and assessed your current fitness levels, its crucial to work out the demands of that particular race. Although all OCR are based on a similar format, distances, obstacles, terrain all differ slightly. Each race will demand specific aspects of fitness, strength and skill to successfully complete it. Some races require lots of climbing or rope work, a skill that you may not be experienced in, consider these things and when designing or selecting a training regime, try to include these things or components of these skills into it in order to maximise your performance on the day. This can be specific skills including the actual skill such as rope climbing, mud crawling, monkey bars etc, or component parts such as grip strength, shoulder strength etc.
Mix running and strength work – general and specific
OCR are more than just a strength or fitness challenge. They are a combination of many factors which when combined make them the unique challenge that they are. Many recreational OCR competitors come from backgrounds as either distance running / cardio enthusiasts or anaerobic strength training / gym trainers looking for a new challenge. The appeal and challenge of OCR events to many is the quest to adapt training and skill to balance out both elements of strength and cardiovascular ability. An individual event may need you to bias your training accordingly. Many general training regimes for OCR are readily available on the internet, and most of the major organisers provide more specific training advice pertinent to their events. If you feel that you need more bespoke training advice, then consider seeking advice and guidance from a fitness or conditioning professional.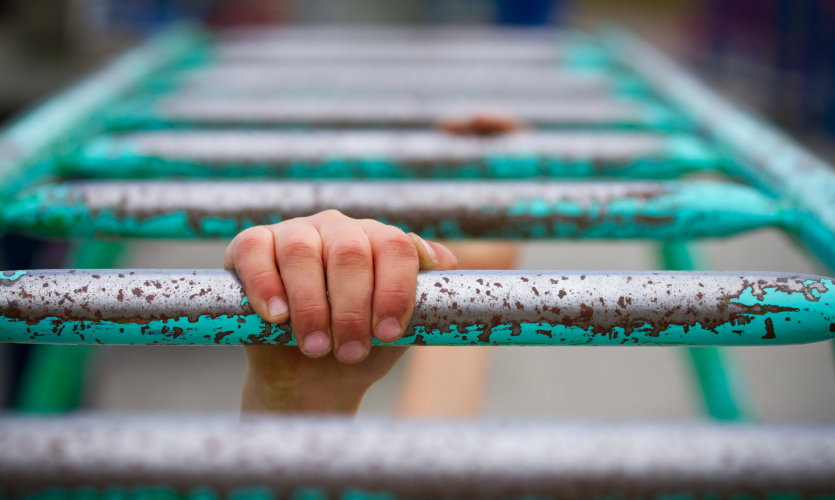 Improve grip strength
I have worked with many OCR competitors who admitted post-race that they were surprised at how much grip work was required throughout the event. Typically, we do not tend to train for grip strength unless your training or occupation requires it. There are some very simple ways to make quick improvements in grip strength which will only benefit you on race day. A simple web search for "grip strength exercises" should provide some simple and easy to perform exercises.
Preparation
Although you will be focussed on the actual race, an OCR regularly becomes a day or weekend away with friends or family. Try to plan ahead to avoid stress and unnecessary inconvenience. Consider the journey route to the event location, will you need accommodation? If so, is breakfast / evening meal provided? What clothes and equipment are required? (more on this later). Your race day should be about enjoyment and relaxation to realise the fruits of your labour.
Recovery
This can include factors affecting recovery immediately post-race or in the days/weeks following the event. Do you need to replenish nutrients and fluids quickly in preparation for another event or training block immediately? Or can you treat yourself to a spa, a sports massage or do you need rehabilitation to get back to 100%. Visit sportsinjuryfix.com to find a therapist near you who specialises in OCR and/or your injury to ensure the most appropriate treatment and advice.
If training has been difficult and intense and has been at the expense of other leisure pursuits, then maybe spending some time enjoying those activities are a worthwhile recovery tool prior to increasing training in preparation for the next OCR. But remember its important to stay active and don't just stop!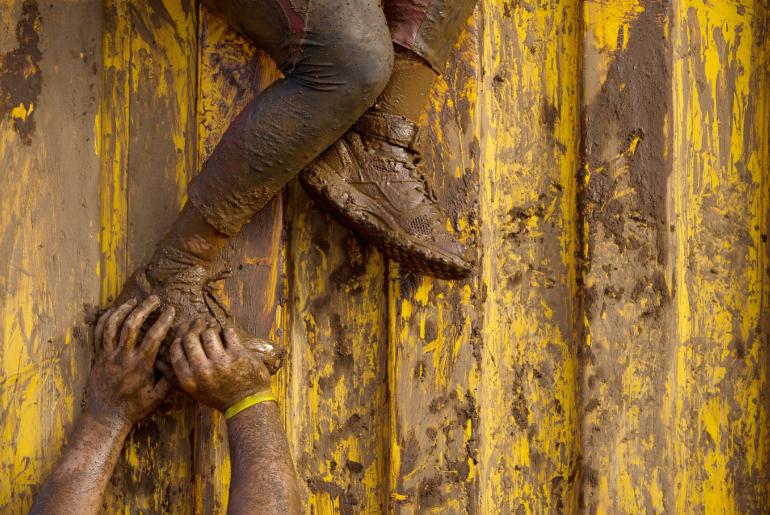 Bring a friend / support team
No successful athlete achieves success on their own. Many leading individual athletes these days are surrounded by an entourage of support staff. The world of OCR is packed with people who support and encourage each other.
Anyone competing in an endurance event knows the value of a support team. The benefits of friendly faces, cheering voices and help remain vital, however I would recommend a couple of extra bits of planning. I am lucky enough to have the most supportive wife and friends who will always be there to help me, but I have also been lucky enough to be able to call on friends who may live relatively locally to the event location to call in for an hour to add their support. An unexpected friendly face can give you a boost that words cannot describe. Finally, remember after the race that you will owe these guys big time!! Plan ahead, a party, a present or a small gesture to show your appreciation for their commitment to your cause. After all, the probability is that these will be the same dedicated bunch of friends and family that endured the whole process by your side.
Plan your race day tactics
What is your goal? Are you simply trying to finish or are your chasing a PB or even the win!? Whatever that goal may be, the chances of achieving it are improved by having a strategy. Some start low and get faster, some work as a team, some go for it from the gun. As long as this strategy has been rehearsed in training then no tactic top trumps another. Race day tactics are very individual. Try not to get distracted from it by racing other individuals and getting carried away by the cheering crowd, this will often end in disaster later in the race. But I always advocate a plan B and even C in case of events occurring outside your control.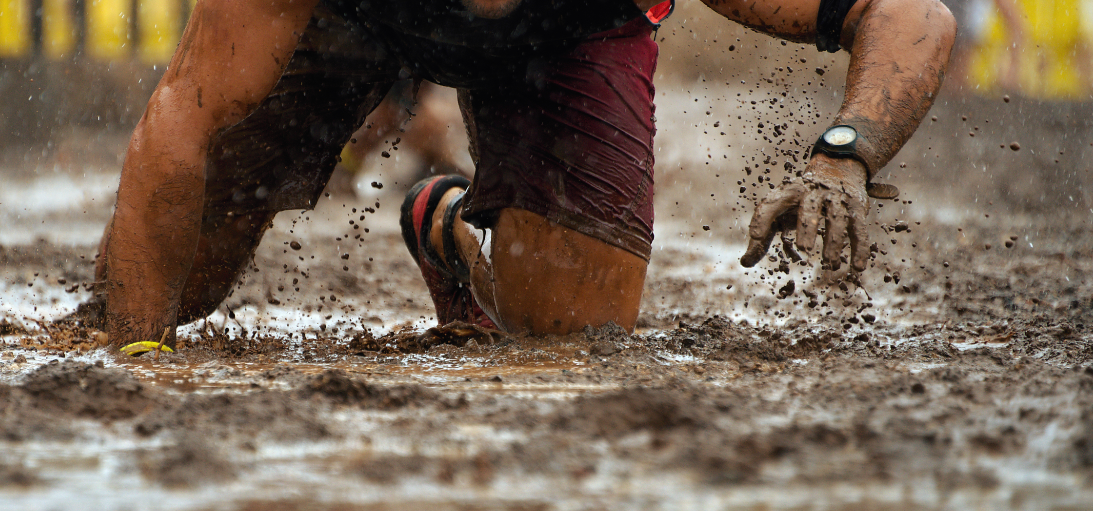 Kit
I always feel there are 3 factors to consider when it comes to selecting kit whether for training or the race:
1.Comfort – many OCR events last a considerable period of time and ill-fitting, inappropriate kit or equipment can cause discomfort and irritation which can become a distraction that you do not want or need. These types of distractions can break the concentration needed to complete the obstacles safely.
2. Safety – Loose fitting clothing can and does get caught in the obstacles and when wet and sodden, becomes heavy and saps energy. Both of these are situations that can be detrimental to performance and lead to fatigue related injury.
3.Performance – todays sports clothing manufacturers have developed excellent clothing to ensure performance at an affordable budget to most. Moisture wicking, compression and vented clothing often avoids the issues raised in points 1 and 2. Also included in kit covering all 3 factors is appropriate footwear. Bespoke OCR event shoes are now available, but a mid range trail running shoe should more than suffice.
Hopefully this blog helps you to achieve your goals whilst reducing the risk of injury. Please visit www.sportsinjuryfix.com for lots more information and to find the right therapist for you.
More articles